The TOP 10 MARIO MEMES!
We all are quite familiar with the Eternally-EPIC Game- The Super Mario !
There are many other versions of this fantastic game, But the essence remains the same and even entices the elders to play the game again.
The elders and adults who have long played this game, after many years they do get nervous, such is the magic of this game.
The exuberating Enchant never seems to fade away!
"Super Mario is equivalent to the Big Bang of our gaming universe. If it were not for this blindingly spectacular creation, digital entertainment as we know it today would not exist."

—Hideo Kojima, Nintendo Power Volume 230, November 2010"
The Mario franchise has culturally impacted a multitude of people over the years, with references and parodies in numerous entertainment media, and even in real life outside the media.
PLOT:
The Mario franchise is a media franchise consisting of video games published and produced by the Japanese company Nintendo. The title character is a fictional Italian-American plumber who serves as the hero of a realm called the Mushroom Kingdom.
The franchise was created by game designer Shigeru Miyamoto and its first installment was the arcade game Donkey Kong, released on July 9, 1981. The games are primarily published and/or developed by Nintendo itself, with some games in the franchise being developed by other companies under Nintendo's supervision, such as Hudson Soft, Camelot Software Planning, Intelligent Systems, and AlphaDream. Most Mario games have been released for Nintendo's various video game consoles and handhelds, from the third generation onwards.

The main series in the franchise is the Super Mario series, consisting of platform games that typically involve Mario and his brother Luigi working to save the Mushroom Kingdom and its ruler, Princess Peach, from the villainous Bowser and his Koopa Troop.
The two brothers use their trademark jumping ability to help them progress through levels, while also making use of power-ups of various kinds. Mario games of other genres include the Mario Kart racing series, sports games such as Mario Tennis and Mario Golf, role-playing games such as the Paper Mario and Mario & Luigi series, and several educational games. In total, over 200 video games are included in the franchise, which combined have sold over 500 million copies.
The franchise has also been licensed into other media, such as television series, comics, children's books, and a critically lampooned feature film. Mario has gained massive critical acclaim and recognition throughout the

world

and is the best-selling video game franchise of all time.



1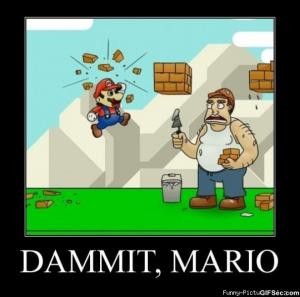 2
3
4
5